DairyTech 2022
---
Advanced Nutrition finally get to exhibit at Dairy Tech 2022!
---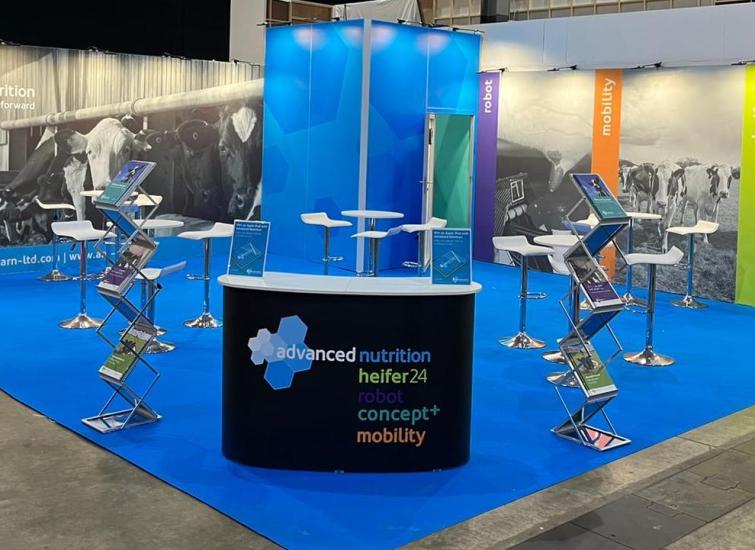 ---
We finally got to exhibit at DairyTech this year after a number of postponements! It was our first time at the exhibition, which showcases ground breaking technology within the Dairy industry. We learned a lot through the other exhibits and the talks on offer at the Dairy Hub and will integrate this into our learnings out on farm with you over the coming months.

Congratulations must also go to the winner of the 2020 NMR RADBF Gold Cup winners the Torrance family from Stapleford Abbotts, near Romford Essex. The family focus on effciency, paying attention to the cow's environment and routines as well as setting benchmarks for performance. Efficiency through our whole farm approach is somthing that is also a key focus for Advanced Nutrition as we all work together towards this common goal.

Advanced Nutrition also launched a new division of our comapny at DairyTech - Advanced Mobility. You may have seen this in the Farmers Weekly pre-show but for anyone who isn't aware of Advanced Mobility – here's a brief introduction…
Advanced Mobility aims to meet the challenge of herd mobility and the associated problems that result from lameness. The aim is to create a path to long term prevention of existing problems.
As part of the Advanced Mobility program we begin by giving our clients' a clear overview of the herd's situation, revolving primarily from our mobility scores. We identify the reasons and farm systems that are creating the lameness. We'll also provide our clients' with the understanding of the physical, environmental and nutritional influences that are contributing to both infectious and non-infectious disease (lameness) that allows fact-based solutions to be advised in order of priority.

Nick Bell has also commented on the program, "Advanced Mobility applies a stepwise, logical approach to building foot health, starting with robust, systematic assessment combined with detailed technical support. Crucially, it recognises the importance of working with the farm team."

If you'd like any further information on this important division, please just give your Ruminant Specialist a call.
---
〈 BACK