Plan Ration Changes Carefully
---
First published in the December Issue of British Dairying, Mark Gorst, Ruminant Specialist of Advanced Nutrition talks about mitigating the impact of a volatile market whilst upholding animal health and profitability.
---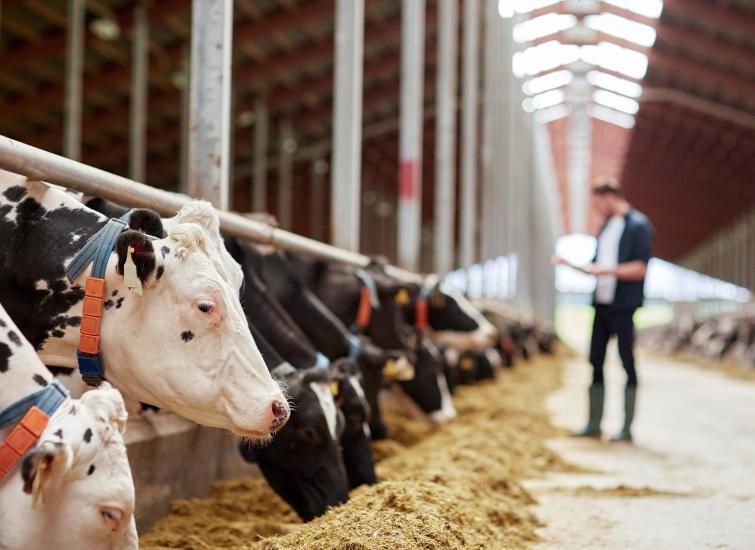 ---
I don't think I need to re-iterate the doom and gloom that has hit the dairy industry over the past year. At this point, everyone is wondering what concoction of variables can be thrown at us next? The Covid pandemic has caused a lot of disruption and with a volatile feed supply chain, we'd like to be in a position of utilising plenty of top quality grass silage. Not so I'm afraid. Across the board, whilst clamps may be full, we are looking at varying quality, from excellent to quite fibrous and lower energy, the spread of quality may make the job of winter feeding that little bit harder – right when we don't need it!
However, if adversity doesn't beat us, it leaves us more resilient, and in a better place to remain profitable throughout. Advanced Nutrition started planning with our clients six months ago, to help mitigate the fallout from Covid. Every farm is different, so we've alwaysemployed a range of strategies to help make the best use of inputs, working with individual farms to identify the most suitable approach. It's important not to have any knee jerk reactions and to try and look outside the box in these situations.
So, what can we do to ensure efficiency over margin this year?
Don't take things at face value. With a rising market it's easy to look at cheaper feed alternatives. However, what may seem more cost effective on the surface, may not be as efficient in providing the additional protein and energy required to maximise production, so could turn out to be a false economy.
Look for the best value nutrients, stripping them out when feed costs rise is the wrong thing to do. Additives play a great role in ruminant nutrition but the ones you may have used two years ago may not be right for you now.
Don't compromise on protein quality and value, unless you are balancing amino acids.
Don't strip out costs where you need them most, for example with transition cows or youngstock.
Protein Quality and Value
With forages being variable across the UK, we've used three different farm examples to show that feeding strategies need to be bespoke to each farm and dependant on the milk contract.
Working with a 350 cow dairy unit, our challenge was to improve the milk quality to achieve a better milk price and so in this case and because of the rising feed market, we looked at things in a different way. Rather than trying to reduce input costs, we looked at a bespoke diet which balanced the amino acids to optimise the milk quality, whilst also gradually removing the C16 fat and re-balancing the rest of the diet. The results were really positive, we achieved the milk quality required by the constituent-based contract and subsequently a better milk price. Costs were reduced by 7p per cow day.
We identified the level at which Methionine was the first limiting amino acid in the ration, and in balancing the amino acids were able to optimise the use of other inputs whilst improving performance.
| | | | |
| --- | --- | --- | --- |
| | | Before | After |
| Milk Protein | % | 3.15 | 3.50 |
| Milk Fat | % | 3.85 | 4.01 |
| Yield | Litres | 39.8 | 39 |
| Milk Price | ppl | 30.76 | 32.97 |
| Difference | ppl | | +2.20 |
| | £/cow/day | | 0.62 |
In other cases, we have utilised products such as Novatan, a blend of essential oils and select trace elements, to improve protein efficiency in the diet. Enabling us to make sure we are using purchased proteins to the maximum benefit in the diet.
Novatan was identified as a potential option when analysing the diet on a 125 cow unit in Cumbria. Our experience in incorporating the product into the diet meant we were confident it would work. The overall protein in the blend and diet was reduced and an input cost reduction was seen in the feed at 8p per cow per day. Milk also increased by ¼ litre due to the improved protein utilisation.
Cost Benefit of incorporating Novatan
Extra Income

Saving from incorporating Novatan

£0.08

Increased yield

£0.75

Increased margin £ per cow/day

£0.16

Increased herd Margin £ / day

£20
Diet consistency
As a Ruminant Specialist, I'm always aware there are three diets on a dairy farm, the first is on paper, the second is the one mixed in the wagon and the third is the one the cow gets.

Look at is what's happening at the trough. Cows don't like variety and the same diet on a daily basis keeps them settled - intakes can lift and performance follows. Any changes we make can cause upset and therefore should be managed subtly to avoid hampering performance. Are there potholes where the cows have been vigorously sorting? What does the dung tell you?
As an example, we undertook a dung sieving exercise on a farm I work with in Lancashire, to give us some extra clues to maximise performance. The farm wasn't reaching its potential in terms of expectations from the diet being fed. The forage analysis indicated that the silage was of good quality and should have been capable of more milk than we were seeing.
The outcome showed poor breakdown of fibre and a proposal was made to tweak the blend. The client was a little reluctant as the change meant extra cost, however, this is where we shouldn't look at things on face value. Digging into the figures the extra cost was 5p per cow per day, a week later, the yield had increased by 1litre. With an increased income of 30p, that additional 5p gave a 6:1 return - well worth the half hour to see what the cows were telling us.


Monitor and Plan
Our experience shows that monitoring and planning is key, it's how we help our client's through the tough times, it's how we are able to react to the market because no year is ever the same – just like no farm or diet is ever the same. It's looking at the bigger picture and understanding how it all fits together.
Looking ahead to 2022 our planning should have identified what seem like the "basics", however, these are things that we should be consistently challenged no matter the market conditions and are a key part to success not just when the time are tough. So, some focus points to consider would be:-
As the farm examples highlighted – know when to make cost savings. Think about when to invest to increase margin and when to invest in moist feed to extend forage.
Once you've identified the quality and quantity of your forage – can you utilise the best forage at a time when it will have the most benefit? For example, if there is some really fibrous material, hang onto it until turnout to buffer with the young grass we will be faced with.
If you think you are going to be short of forage, plan ahead and sort out shortages now. Look at your options? Alternative feeds don't necessarily need to be fed to the milking group, mixing a bulky feed with straw to make forage replacer maybe worth considering and fed to younger animals if forage is short.
Are there any other areas where you can identify bottlenecks in your system? Sometimes small adjustments don't have to cost you much but can make a difference to the rest of the work you're doing.
All day everyday
It's clear that careful management of nutrition will be needed this winter to reduce input costs whilst maintaining protein and energy levels. However, as a business we really think you should be challenging every feed and additive, not just when times are tough, but always, to maintain optimum efficiency. And this doesn't mean striping out additives when feed prices are high!
---
〈 BACK