Making the most of homegrown forage
---
Richard Taylor working with Fferm Plas in Anglesey to make the most of homegrown forage and boost finishing beef performance...
---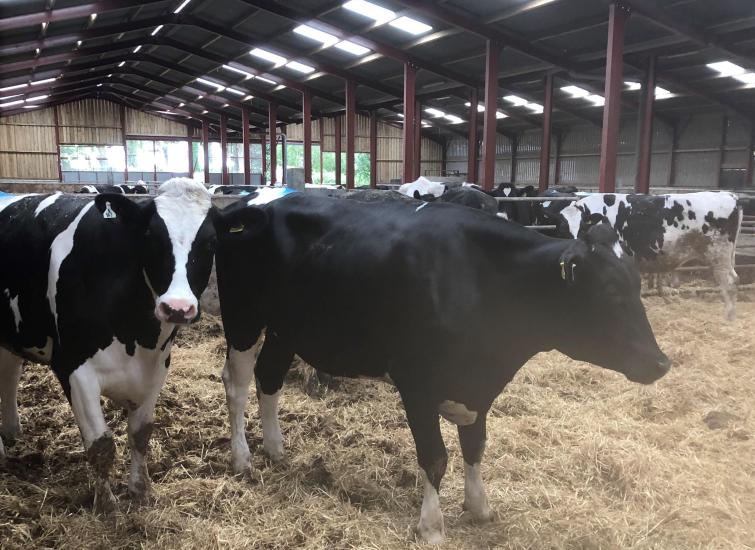 ---
Arwyn Jones' farm finishes 700 black and white beef cattle a year and is home to 1400 ewes. The farm is based in Llandegfan, Anglesey, extending to 900 acres where most of the land is reseeded grassland, spring cereals, stubble turnips, maize silage and pea and barley whole crop.
Arwyn started working with Ruminant Specialist, Richard Taylor of Advanced Nutrition two years ago. Richard was tasked with making the most of the home-grown forage to improve profitability, whilst also maximising the daily live weight gain of the beef finishers.
The farm's main objectives were:-
Reduce the costs of bought in feed by maximising utilisation of home-grown feeds.
Improve pasture quality during the growing season, to improve daily liveweight gains of the growing cattle.
Further improve silage quality and reduce losses both in the field and in the clamp.
Improve soil structure health and performance and reduce compaction.
Improve efficiency and utilisation of nitrogen, phosphorus and potassium on the land.

Richard worked closely with Arwyn and proposed a suitable ration that fitted his cropping rotation. He also looked to improve forage quality.
Total Daily feed intakes were monitored through the mixer wagon feed output. Fresh weight and Dry matter intakes were then calculated daily.
Cattle are weighed on a regular basis.


Finishing Feed Programme
Richard proposed a new finishing feed program which included:-
Barley+ Pea Wholecrop
Grass Silage
Home grown Barley and Wheat
ARN Biscuit Blend
ARN Beef Mineral Pack
The main objective was to improve grass silage quality by cutting the plant at the 3-leaf stage on a multi cut system. Previously more mature forage crops with higher yields were cut for forage but our new objective was to cut younger plant forage more regular at 6 weeks interval to improve overall forage quality. This enabled us toincrease D Value to above 70%, ME Mj/kg 11.5 and most importantly protein levels are up to 16% CP.
Increasing forage energy density has enabled us to reduce purchased Biscuit Blend concentrates by 1kg/head/day and increase forage intakes. We have gone from a 70% Concentrate: 30% Forage ration to a 60% Concentrate: 40% Forage Ration. With a good supply of homegrown forages and cereals this has meant the farm has reduced its purchased feed costs from 57pence/head/day to 40pence per animal per day.
The inclusion of whole crop with a high NDF level has taken the straw out of the ration thus reducing costs and has created a more open TMR mix. With the inclusion of peas in the mixture it has provided additional protein in the overall ration and as a legume and it has fixed nitrogen back into the ground for next crop. The Barley Whole crop has also provided valuable additional starch to the overall ration.
Harvesting forage at the correct plant maturity stage and correct conditions for wilting is vital for efficiency. Clamp management at Fferm Plas is top class and helps to reduce the dry matter losses. Rolling and sheeting is done efficiently and Arwyn Jones treats all his forage with a silage additive from Advanced Nutrition. The ARN additive increases lactic acid production for a better fermentation and increases acetic acid production to keep the silage stable at feed out.



Beef Performance
Fferm Plas has Holstein and Friesian Steers, 40 animals per pen with 6 pens in one shed. The brought in liveweight of stores growers is 350kg and for strong stores for finishing is 550kg.
Future Improvements
Richard and Arwyn are constantly monitoring both the land and the herd, with the aim of continually improving forage and DLWG's. Looking ahead to future sustainability, they have re-seededgrass leys with higher sugar grasses and the inclusion of red clover. This will enable them to feed grass silage as a valuable protein source and replacing the need for soya protein as a purchased feed.
We also aim to measure grazing quantity and quality in more depth to help increase daily liveweight from Grazing on the growers.
If you'd like any further information on forages or improving DLWG's then please contact Richard on 07867384382 or email richard@arn-ltd.com
---
〈 BACK