A Nutritional Solution to Digital Dermatitis
---
Bryn Davies talks lameness prevention on farm with First Step Assessment and nutritional management for your dairy herd.
---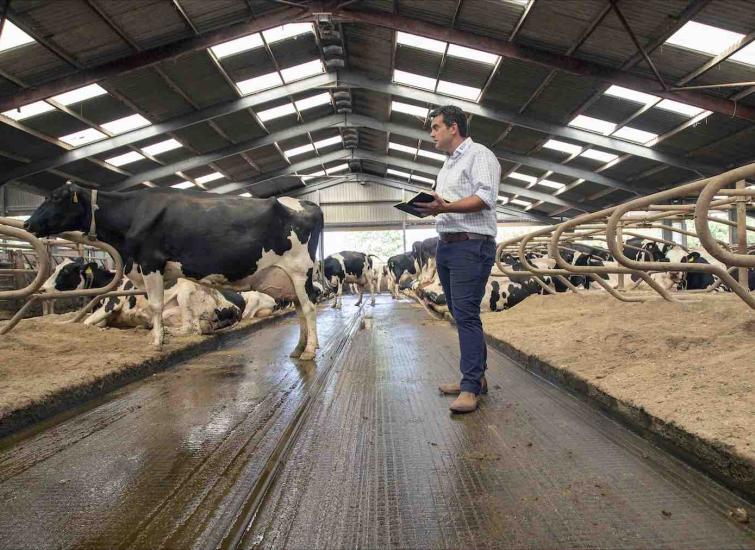 ---
Lameness is a significant welfare and productivity concern across the UK dairy industry.
You may have heard of The First Step® Dairy Lameness Assessment and Prevention Program. The program provides the most comprehensive assessment available of lameness risk factors on farm. Myself and the team at Advanced Nutrition are First Step Assessors operating on farms in the UK. Currently there are only two businesses in the country operating as assessors, conducting full lameness audits and evaluations to provide practical and nutritional solutions. The focus is to help farmers manage and prevent lameness.

Current Situation
Heifers are vital for herd sustainability so it is important to ensure that heifers enter their first lactation free of digital dermatitis (DD), so that they can remain a productive member of the herd for longer. In the UK, DD is believed to be prevalent in 25% of pre-calving heifers. Ideally heifers should be entering the milking herd free from DD (target 0%).

Table 1 shows the financial loss incurred by the sum of heifers infected with DD on a typical 200 cow milking herd across their first lactation.




Encouraging good hoof integrity in heifers
Advanced Nutrition began a UK farm-based trial in May 2013. Pre-trial Digital Dermatitis (DD) showed that approximately 20% of heifers housed away from the dairy unit were infected with DD pre-calving.
From approximately 4 months of age, calves were fed a mineral equivalent of Availa Plus from Zinpro Corporation. The mineral is designed to improve trace mineral nutrition in order to build stronger skin integrity as well as allowing the heifers to develop an improved immune system.
It can be easily integrated into a well-fortified diet and then stopped three weeks pre-calving. It is important that the heifers receive the minerals in the pen/building prior to where the lesions are first seen. The feed rate is dependent on the animal size but costs approximately 8 pence per day per animal.
Results of the trial were significant. Digital dermatitis scoring has shown that none of the lactating heifers have any evidence of DD lesions with days in milk varying from 30 to 300 days. Therefore, protection from feeding Availa Plus carried from when the mineral supplementation was stopped at three weeks pre-calving and on throughout 1st lactation.
Table 2 shows the typical financial savings based on losses associated with lameness as shown in Table 1.


What Table 2 doesn't reflect are the immense benefits to animal welfare and ease of use.

The prevalence of Digital Dermatitis should decrease within the milking herd now the heifers are protected which will help reduce the pool of infection.

Managing hoof health in the milking herd
The results within the heifer are really positive but two-thirds of the existing milking herd on the trial farm either had active M2 or chronic M4 lesions.

For those cows with M2 lesions the recommendation is to individually treat with cleaning and antibiotic spray but, as there were multiple cases of DD, a footbath system was advised as part of management to reduce reactivation of M4 to M2 lesions.

To ensure effective footbathing it is important to evaluate and establish a protocol so that footbath location, solution and frequency are optimal.

Footbaths need to be ideally 3.5 metres long. Footbathing frequency depends on cleanliness of cows but also footbath length. We should look at 3 times a week for footbathing but chemical and frequency will tend to be farm and infection dependent.

There are a range of different products which are commonly used but in this case, Healthy Hooves Ultimate has proved most effective. This safe acid solution solubilises copper and zinc. Zinc not only acts as a disinfection agent but also promotes horn health. Additional additives assist in cleansing the hoof.

To reduce the reservoir of infection within the herd, M4 and M4+1 cows should also be considered for culling.

Going forward
For future herd sustainability, Availa Plus must certainly be considered by farmers.

It is simple, effective and reduces reliance on other fire-brigade control methods which often bring about their own challenges. If we invest in heifers then we can reduce the infection pool on farm.


Please contact Advanced Nutrition if you would be interested in a full lameness audit and evaluation.
---
〈 BACK